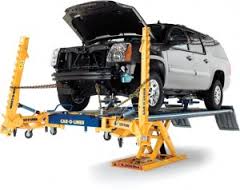 Factory Specification Frame Repair:


Your vehicle has precise structural standards.  Exact location and fit of integral parts are critical to the operation and appearance of your vehicle. Gerald Collision Center technicians will measure your vehicle against published factory specifications and return your vehicle to within the manufacturer's specifications to insure proper operation, location and fit of body and structural parts. 
A computer based measuring system allows the Gerald Collision Center technicians to precisely and quickly target the correct measuring points. Damaged areas can be measured at any time during the repair process making sure the repair is 100% back to factory specifications.